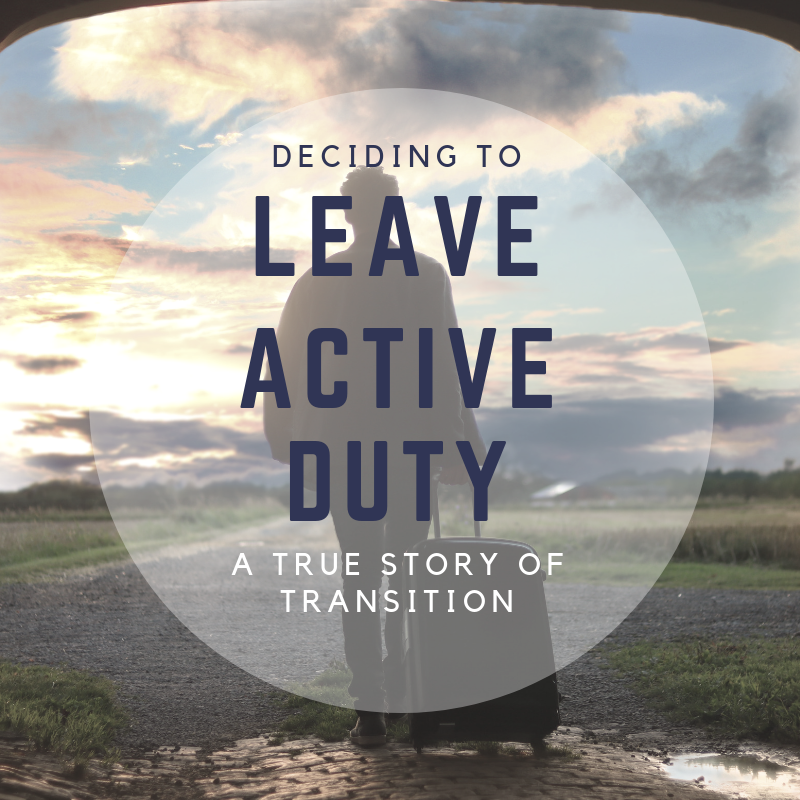 Deciding to Leave Active Duty
By Kristin T
In February of 2012 I welcomed my husband home from his second tour in Afghanistan. I couldn't have told you anything about Super Bowl that Sunday, but the energy inside that Fort Campbell hanger was tangible with a certain mix of nervous energy, sheer exhaustion, and impatient longing.
We still have the double-sided sign in our attic: "CH T Belongs to Me" on the front and "Merry Anniversibirthday" in big thin lettering across the back.
My favorite guy was home.
We knew the drill. After the mandatory hold time, we decided to take a few days to ourselves before coming "home" to my parents' house where he'd be reintroduced to our then two-and-a-half-year-old daughter and the son he met the first time via Skype only eight months prior.
It was a wonderful plan. We rendezvoused at a sweet B&B in Serenbe, GA and discussed our past, present, and future plans, uninterrupted, face-to-face.
We had filled out our "PCS (Permanent Change of Station) Wishlist" in the eleventh month of deployment and soon learned that we were headed to another deploying unit (out the door in twelve months) not on our list at all.
We believe the wisdom of Proverbs 16:9, "The mind of the man plans his ways, but the LORD directs his steps." Location was no big deal…as long as we were together.
But this next assignment did not seem to be lining up with our desires nor our expectations.
Uncle Sam had given my husband some invaluable training and a wealth of experience in a relatively short amount of time. But another deployment? Again? Already? Emotions were high and feelings were mixed. Can we do this again? What if the next twenty years is like this? Will our children know their father? Will this break him? Will this break me? We didn't know.
It had been a long year. He was tired; I was lonely.
A Bit of Background
Our initial introduction to active duty had been a whirlwind. My husband graduated seminary and welcomed our first child within ten days of his reporting to Fort Campbell to fall in on an already-deployed unit. He would be replacing a chaplain who had burned out, as we understood it.
I took our newborn and settled back into my parents' home in SC and off he went to ready himself for his first adventure halfway around the world. Not unlike anyone else's story, ours was exciting. And it was shocking. It was like nothing we could have prepared for.
On his very first day, before he was able to get upstairs to meet his rear detachment commander, he was caught off guard with a somber, "Oh, good, Chappy, you're here." He was led to a grieving father, set to retire in the next few months, who had just lost his son in a boating accident. He had missed so much over his career and was desperately looking forward to making up lost time.
This encounter was the first of many etched on my husband's heart.  
Time in garrison post-deployment was non-stop reaction to crisis. Many counselings, many losses, many divorces, many suicides. We didn't realize until much later that his aviation support battalion was larger than most by at least double.
I know my husband can thrive under pressure, and I believe he does only through the power of Jesus Christ.
God Met Us At Our Crossroads
We knew something had to give. He had been gone nearly 35 of our first 72 months active. He had trained aggressively and cared tirelessly for every family, it seemed, except his.
Certainly families can and do thrive in an active duty environment. This was a very personal decision. It was time to release, to leave and cleave. We began to pray for God to open doors as we began to emotionally separate ourselves from active duty.  
Like only He does, God flung the doors open. A pastoral position opened up at his father's church where we had completed his seminary internship, a house not yet on the market became available (it was less than two miles from the church!), a National Guard position was offered, and, as a special surprise, we discovered we were pregnant with our third child without the help of fertility treatments.
We crunched numbers, set calendars, filled out a gazillion pages of paperwork, and packed our bags for our new adventure together.
A Few Thoughts and a Healthy Dose of Hindsight
Timing is (not) everything.
We know better than to discuss important issues when we're tired (or hungry); but we're not always granted that luxury, especially pre/post deployment or PCS season. To say we were exhausted is an understatement. We took what energy we had at the time and threw it into re-evaluating our situation.
With the prompting of a senior chaplain,we ran our decision through five filters (in no particular order): Family, Finances, Future, Faith, Fun.
What was the best possible scenario within these five areas? Facts and assumptions? We knew the short dwell times of AD were not what we wanted for our family. We knew our finances would take a big hit leaving AD for a small-town pastorate.  We knew that we still wanted and needed the military as part of our future. We knew we wanted to minister our faith together rather than independently as we'd been experiencing. We assumed anything could be fun as long as we were sensitive to the Lord's leading. We knew it was time for a break.
We had peace, we had purpose, we had a place to go, and we had a plan.
You can take a soldier out of active duty, but you can't take the active duty out of a soldier.
So, what about all those glowing plans of quality time together? Well, I'm still not sure whether to blame genetics for his high-octane energy level or the military for this ingrained op tempo, but our first year with that DD214 was nearly as lonely and independent as the years prior.
I recall moving into our new home and my husband spending many of his evenings working on the house. Everything was time-to-task, whatever it took to get the job done. He even put up a ten-foot fence by himself…in winter…in Pennsylvania.
Perhaps it was partly his bewilderment at my preoccupation with our three children under age three, but we were certainly in a stage of independent taskings. Again, timing isn't everything. We were together and I wouldn't trade that bumpy year for anything.
In addition to the unexpected restlessness, there was the actual marked lack of sleep, the continued speaking in acronyms, the higher-than-normal personal expectations, the detailed evaluation of systems, and (perhaps more so for a pastor/chaplain) the constant analyzing of people.
These aren't bad things, just things that tended to carry over for us.
Of course, there are also things we miss. First, the simple wardrobe. I love the uniform; it's practically a wearable duffle bag that looks so good on my mister. I doubt he'd admit it, but I think he enjoys lacing the combat boots for his Mdays. Then there is the unity, organization, efficiency of personnel that is just not the same in the private sector.
You still might catch my good-natured eye roll at the church potluck. Why won't folks just walk down both sides of the table?! It became a joke pretty quickly, "Just sigh and say 'civilians.'"  
Until we got our medical coverage straightened out, I even missed Tricare Prime. I know!
We laugh about it now, but active duty has a rusty on/off switch.
The grass is greener…where you water it.
One benefit of being married to an amazing chaplain/pastor is that he knows the delicate art of communicating to need. I can always count on him to diffuse my mood, break my cynicism, and encourage my heart.  
The fact was, we were just in desperate need of pausing to patch up and refill the watering cans. It seemed clear that another move with another deployment would have likely left us high and dry, at least for a season.
It wasn't a lack of faith that the Lord would care for us. We knew He had our best interest for His glory through struggle.
It wasn't discontentment; we refused to dwell on "the luck of the draw" when it came to assignment.  
It wasn't an unwillingness to be "spent" for the work of the Lord. For the believer, life is ministry.
We were just ready to enjoy the gift of marriage a bit closer positionally (insert smiley emoji).
And now, always ready for our next adventure.