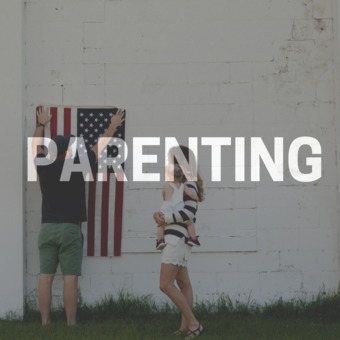 Parenting Series (4 Parts)
Parenting with Small Kids
Marriage can often feel like a partnership more than a marriage during the years of raising kids. So many families talk about missing the intimacy they used to have and life feeling more like survival. Sure enough, it can feel like you are more shoulder-to-shoulder during this season. In this episode, we talk about how you can make more face-to-face time with your spouse as well as find ways to be more protective of it during the parenting years. We will talk about how to handle conflict, plan dates, as well as navigate the struggle of different parenting styles. A must-listen for military and first responder couples who often feel like ships passing in the night. Here is what others have said: 1. Always make an effort to treat each other as we would a guest in our home. Common courtesy and everyday kindness makes all the difference in the world. A simple "Can I get you anything" or "Can I help with that" have kept our marriage first. 2. Staying positive is really important and although it can be challenging at times I have found it always helps us get back to that sweet spot we long for. 3. Taking even ten minutes to talk to each other. It could be at 0500 or 2200….but either way, just spend some time not on an electronic device (provided they are not thousands of miles away at the time) and asking the other person about their day. We attend Bible studies and church functions where we can grow spiritually while the kids are doing the same. As the kids get older, the minutes will be easier to turn into hours. But for the very small and precious time the kids are little, my best advice is to make the most quality out of the little bits of time.

Bullying: It's Not Just Kids Anymore
Bullying is a worldwide epidemic that impacts both children and adults. In today's culture, we see cyber-bullying impacting adults like never before. Divisive conversations over social media, trolling, and mean-ness is causing people to think twice about staying connected online. During this episode in the parenting series, I sit down with Dr. Bina Patel an expert in workplace dynamics, conflict mediation with women, and conflict mediation between culture/religious groups. Dr. Patel offers strategies you can use in your workplace, volunteer circles and with your kids on how to confront bullies and build confidence. In today's culture, ♣ 30% of teens in the US have experienced bullying ♣ School bullying: 1 in 4 kids at school have been bullied; 160K kids in the US miss school due to bullying ♣ Gay bullying: 2 to 3times more likely to commit suicide and 30% of all completed suicides have been related to sexual identity crisis in the US. ♣ 9 out of 10 LGBT students have reported being bullied at school within the past year. It's not just for kids, though. Bullying between adults can make the workplace difficult to walk into each day. While many of us grew up being told to ignore a bully, Dr. Patel offers some ways to confront the bully immediately. Dr. Patel offers us an inspiring way to help our children build their self-esteem, find their words, get to the root of their feelings, and become assertive. Of course we all need a little bit of this too! Here are a few tips and resources that Dr. Patel offered: ♣ Confront the bully: don't ignore it. Turn the negative into a compliment ♣ Love and respect: be confident and love yourself. If you respect yourself, the negativity and harsh words of the bullying will bounce off of you. – you control your own emotions, if you believe that you do, others will not be able to hurt you. ♣ Tell them to stop: point out they're hurting you (assertive communication) – use the "put yourself in my shoes" technique. ♣ Silence: specific to online bullying- confront them through assertive communication, but do not continue the dialog. This is more harmful to the victim as others are reading it and it is set in writing. Note: if nothing else works, the silent treatment is the best treatment. As the victim, walk away from the bullying. ♣ Online bullying: block posts, delete the posts, report them to Facebook; reach out to the victim either via separate/private message, or stand up for the victim by responding to a bully's post (assertive communication). Note to Parents: Know your child – know their behaviors, moods, and what makes them tick/happy. If you are cognizant of their behaviors on a normal basis, you will know that something is wrong if your child does not eat, becomes withdrawn, looks sad, etc. Monitor the social media outlets that your child may be using. It is wise to create an account to monitor them, more so that you are aware if someone is bullying them. Be a friend! When your child is depressed, sad, withdrawn, etc, talk them as though you are friends. It is important so that the child feels comfortable they can tell you what is on their mind. One of the books recommended: Confessions of a Former Bully

Parenting Teens with Pam Brummett
On this episode of Lifegiver, I sit down with my good friend Pam Brummett who has raised three fantastic kids, two of them still in high school. It turns out the military doesn't ruin your kids 🙂

Win-Win Parenting
In this final episode in the Parenting series we are talking about how to apply Steven Covey's Win-Win habit of 7 Habits of Highly Effective Families to parenting. Trying to get your kids to do chores can be a chore itself often leaving you feeling you are on the losing end. As kids get older, they start wanting to find ways of being on the winning end as well. Win-Win can help you both feel successful while your kids are motivate by their freedom to choose what they do. I also take some time to talk about how teens develop and how you can better understand what is motivating your teen to find his or her peer group or apply themselves to their school work.